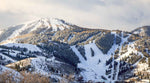 What to Wear in Deer Valley
I was lucky enough to get away for a fun girl's weekend getaway to Park City, Utah last month.   Deer Valley is fast becoming my favorite place to hit the slopes and I am getting accustomed to the surprising luxe and laid back attitude of the area.  I'm not going to lie.  I think we are more interested in the après ski more than the actual ski .  We had planned a couple days of skiing but also some fun dinners, one being a super special private yurt dinner @ the St. Regis.  So, what to pack for slopes to yurt?!    My general rule of thumb is to pack some neutral basics and add interest with a couple stand out jackets and accessories.  
Here is an exact layout of outfits I wore over the weekend. 
                                           DINNER @ 350 MAIN